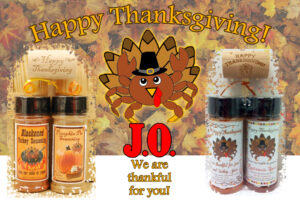 What is your favorite Thanksgiving dish? I have a favorite butternut squash dish I save for Thanksgiving – mainly for the calories, even though it is a bit labor intensive.  Are you a veggies lover or all the meats in the dressing, bird and green beans kind of person?
How do you do the Thanksgiving bird? Do you fry your turkey? Brine it? (That's a mixture of water and spice and then you marinate the turkey for about 24 hours.) Some people use a rub – may we suggest the Thanksgiving Rib 'n Turkey , Cajun Seasoning or the Beef/Poultry rub – and rub their turkey before roasting it in the oven. If you do the basting method, add some of the rub to the melted butter so that the spice is continually massaging the turkey through the whole cooking process. If you have scaled down your turkey to just a turkey breast, I highly recommend using a rub so it doesn't dry out and keep basting away!
What's Thanksgiving without mashed potatoes, mashed turnips,  mashed sweet potatoes, mashed butternut squash….you see why we include a mallet with our Thanksgiving Gift Sets? (These make great hostess gifts!) Mallets are so multi-functional! The biggest complaint about the mashed veggies is that there is no taste. People forget to season their veggies in the cooking process. I highly recommend the J.O. Garlic Pepper!  Just add it while the potatoes/veggies are boiling. What about J.O. #1? Add a little brown sugar to your mashed squashes, too and #1 would add a nice spicy twist.
What's Thanksgiving dinner without stuffing or dressing? If you are making your stuffing, season your bread cubes with chicken broth, J.O. Thyme, J.O. Rosemary, J.O. Sage or J.O. Italian Seasoning and J.O. Garlic Pepper…then add your oysters (we have engraved oysters knives to help shuck!) or your sausage and throw in some craisins, walnuts or bacon or everything I just mentioned. It's Thanksgiving. Do it up right!
The best part about the cranberry sauce is the star of anise, a fresh orange, three cloves and a cinnamon stick! The great thing about Thanksgiving is the smells that the kitchen sprinkles throughout the house. Not cooking? Put some cinnamon, anise, orange and cloves in water, let simmer on the stove and voila, you've got the smells and you are fooling the whole family into thinking you are slaving away!
Keep in mind that Thanksgiving is an all-day eating spree so dessert is a necessity. Sprinkle some J.O. Pumpkin Pie spice on top of your coffee or hot chocolate and enjoy a nice big slice of pie. You can sprinkle some J.O. Pumpkin Pie spice onto your brownies, your ice cream, your pound cake, your cream cheese frosted pumpkin cupcakes…mmmm….what's your favorite recipe using J.O. Pumpkin Pie spice? Let us know on Facebook or Twitter -if we select your idea, you could win a prize!
Stock up on all your favorite spices. It's that wonderful time of year and spice is nice!
Keep it spicy ~
🙂 Pamela