Here at J.O. we specialize in custom blends. We love what we do and love to spice up the atmosphere. We are expanding into the BBQ market and so far we have made quite a few specialized BBQ blends. Each one is unique in their own taste and distinction and that is what makes BBQ so much fun to eat! Who knew that smoking a brisket or a turkey or chicken for hours could taste so good? Some just add a rub. Others do a spice after the first smoke. Others add spice to the BBQ sauce. Then there are those who do it all (we really like those kinds of guys. Ahem, I digress.)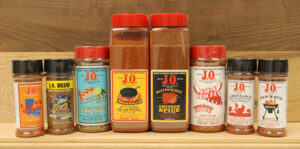 When you add a rub to the meat, the best time to do it is in the prep. It's like a workout for the meat tendons. They are getting ready to dance in the fire and get all tender and juicy. Have you tried the Beef/Poultry Rub on our website? It's awesome. Works great on pork shoulder. What about the J.O. Garlic Pepper? I use that on my beef roasts and my chicken – that is the perfect rub to try when you are unsure of what a rub would do to your meat (mainly because you should already have J.O. Garlic Pepper in your spice collection and it's the perfect blend of garlic and pepper that makes the meat just heavenly!)
For a spice blend, use the J.O. Rib 'n Chicken or the Lumberjack – these are the two that have the smokier flavor that would be the most like an outdoor BBQ meal. These are great on chicken drumsticks, pork chops, ribs, shoulders, and butts. Personally, I use the Rotisserie when I roast a whole chicken after I have let it cook underneath the J.O. Garlic Pepper for about 1/2 an hour. I like to use the Rotisserie because I use the leftovers to make chicken salad for my lunches so while I'm cooking dinner, I also have lunch for the week – easy, time saving solutions!
If you want to add a spice blend to the BBQ sauce, there is the Cajun for spicy, there is J.O. Garlic Pepper for deliciousness, there is the Rib 'n Chicken for added smoky flavor, and of course, you know there is J.O. Spice #1! We've been told by customers that J.O. is "the bomb.com!" It just makes your BBQ sauce that much saucier!
Mmmmm, aren't you hungry for a great BBQ spice blend? Check out all our specialty seasonings! If you make a great BBQ spice (I'm happy to taste and let you know my honest opinion), why not partner with us as we specialize in custom blends?
Please note: We do not do refrigeration and we do not do liquid. We do not steal ideas as we sign confidentiality agreements.
WHAT WE DO Co-pack, blend and customize your spice. This is our specialty! We can make your label using artwork you provide, or our great imagination too! We get it done very well, if I may say so, (and I do!) to send some accolades to my team!
Where is your favorite BBQ place? Ask them if they partner with J.O.! I know a great BBQ caterer if you need one and I know who else we partner with in the area who are awesome, too!
Happy Spicy BBQ'ing,
🙂 Pamela