"R" you ready for the news? "R" you ready for Oysters? "R" you ready to shuck with your personalized, customized, or pre-printed Engraved Oyster Knife?
That's the news! J.O. Spice's expansion is in prog"R"ess!! We know that oysters "R" in season in all months that end in "R" so there are many months where you will need a personalized, customized, or pre-printed Engraved oyster knife.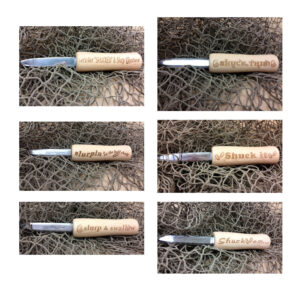 You can choose one of the pre-printed oyster knives on our website or if you have a creative, unique saying when you shuck, get your knife customized for just a little bit more. Put your initials, your name, your favorite kid's name (just making sure you are paying attention).
Just like the Personalized Crab Mallets (www.personalizedcrabmallets.com)- if you dream it, we can engrave it on your engraved oyster knife.
We are excited about our new addition to the personalized products line. We have many more ideas and we can't wait to share!
Thanks for being a part of the prog"R"ess. Get Shucked today! Don't forget about the Oyster & Fish Breader that you will need or the J.O. Cracker meal or try the spicier version and use the Seasoned Southern Fish Fry in your famous fried Oysters recipes.
Let us know how you prepare your freshly shucked oysters!
Happy shuckin',
:)Pamela