Summer means BBQ and a great sauce is what makes the chicken, ribs, and pork a delectable hit! Knowing when to put on the sauce is also key to a great BBQ meal ~ the sugar content in most sauces will just burn on the grill instead of caramelize if you put it on the high heat or hot coals. Instead, start off with a spice rub. It can be as simple as salt and pepper. Better yet, try one of J.O.'s specialty seasonings as all of them can be used as a rub —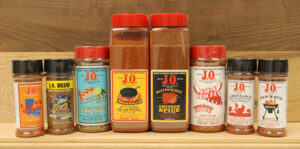 – my personal favorite is the Caribbean Jerk as I love the flavor, Kathleen prefers the Rib 'n Chicken while Jenn loves the Rotisserie. The spices are blended just like any rub – so don't be swayed by the fact that they aren't named "Rubs". They are perfect for spicing up your chicken salad to rubbing on your meat as you get ready to BBQ, roast or bake in the oven.
Once the meat is cooked to your liking, either on the grill, in slow-cooker or oven, than put on your sauce and cook an additional 25 minutes or until sauce has mixed nicely with the meat. When I say it's cooked to your liking, cooked until the minimum to be done but if you're like me and your ribs should fall off the bone or your meat should be so tender it melts in your mouth -you cook the meat until it reaches an internal temp of 170 and then you let it cook at a lower temperature so that the meat gets tender and the sauce gets really hot, thick, and delicious. The best part of a summer BBQ is that you can do it more than once and learn your tricks because who wants to cook inside?
Tell us your favorite spice, seasoning or rub!
Happy BBQ spicing,
🙂 Pamela