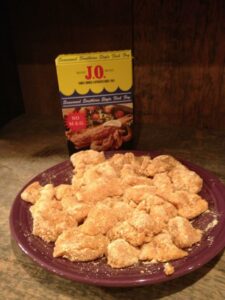 The Seasoned Southern Style Fish Fry Batter is a misnomer. There are green tomatoes, chicken nuggets, chicken strips, zucchini, okra, yellow squash, onions and mushrooms that need to be seasoned in this batter! Don't let those wonderful foods feel left out and get all sad in your refrigerator! They love to be battered up, fried and devoured deliciously. That is their purpose and it is up to you to help them fulfill it.
Seasoned Southern Style Fish Fry, the "SSSFF", is the bomb.com ~ J.O.'s spicy, tasty take on getting you back to your Southern roots or just to give you something different with an added, "hmmm, a hint of heat, definite spice and oh so good, I can't wait until dinner!"
"SSSFF" is so easy to work with. All you have to do is prepare your vegetables, fish or meat and either bread it as is or use an egg-wash to get the food all nice and ready to get battered-up. It's much more moist if you do the egg-wash method which means that in a small bowl, crack an egg, slightly beat it as if you are getting ready to scramble and dredge your food in the wash first, then do the breading. Sometimes you might not have the time so just stick your food in a ziploc bag, add a touch of water to your meat/fish, throw in some "SSSFF" and voila, dinner is ready to fry!
Chicken nuggets are a favorite for kids and the adult children! When you do it in the "SSSFF", you can make a grown-up dip like jalapeno ranch, or chili-pepper or wasabi ketchup. The flavors are endless. The "SSSFF" is a very versatile batter that adds a spectacular flavorful dimension to any meal of the day.
What are your favorite ideas when you think of the "SSSFF"?
Let us know!
Happy cooking,
🙂 Pamela