(How to Tie a Scarf Image Courtesy of Pinterest and the other two images are on the J.O. Spice online store under the Scarves! tab)
Scarves! It's October and that means layers!
Scarves! are the perfect accompaniment to any outfit and we have -no pun intended- layers of scarves to choose from! If you like anchors, deep colors, and nautical themes, then go to our online store and check out all the available SCARVES! There are also a multitude of Maryland flag scarves to choose from – we've got them for all seasons!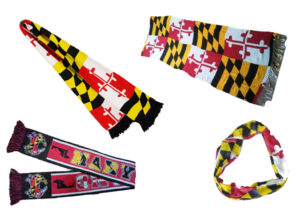 The best thing to do is to come visit our retail store and try them on for yourself! We're going to be open Saturday, October 29th from 9am-2pm if you want to check out the store and the tent sale! We have SCARVES! in so many styles, choices and fabrics, you'll be stocking up! You'll probably buy one for you, one for a friend and as the holidays are right around the corner, you might end up doing ALL your Christmas shopping at J.O. Spice: your One Stop Shop for all kinds of gifts!
J.O. can customize, personalize, and put the truly thoughtful in your unique gift. Have no ideas? Great, we've got enough and we'll help you pick out a great personal gift that will be the BEST gift your friend, family, acquaintance has ever received (trust us, we're not tooting our own horn, we're just repeating what we're frequently told!)!
Try our gifts and gift-abilities for yourself, your friend, your mom, your hard-to-buy-for-individual and then you be the judge!
🙂 Happy Shopping!