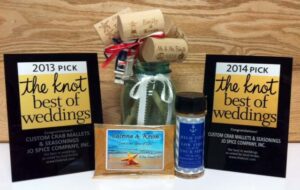 We won the knot best of weddings favors for 2014 (and 2013!). We want to sincerely thank you all for that most prized honor. We love what we do and it's because of you that we can continue to do that! We LOVE LOVE LOVE taking the stress out of your wedding favors. We love to create and personalize great gifts for your wedding and event favors. Now, we have so much more to offer ~ especially since we've expanded! Do you have a wedding in the future? How about a special crab or BBQ feast? We are available – we can customize spice packets, mallets, cutting boards, glasses, oyster knives, paring knives….my goodness, this list could go on and on! What do you need on your personalized wedding and event favor?
                       FROM GINGER ~ "THANK YOU ALL for allowing us to be a part of your special day. The Best of the Knot for 2013 & 2014. It is an honor. We LOVE what we do…… personalized favors with personalized service.  
~Who is looking for a great personalized gift? Mallets, Crab knives, Oyster Knives, Cutting Boards, Glassware, Picture Frames, & More….
~Contact jospiceginger@yahoo.com for your personal consultation. Tell me what you are looking for and I will bring your ideas to life with my talented team of designers.
~Thanks again for another great year!
                        Keeping it personalized & spicy~Ginger"
Having a spicy backyard BBQ party event? We have SPICE, awesome plates on sale in our store, Sportula's for the grill, tablecloths, Koozies to keep the beer, soda and bottled water cold, potholders, glasses that you can ENGRAVE, cutting boards that you can PERSONALIZE, and more!
Got a crab feast event coming up? Got spice, tongs, steamer pots, knives, bibs, bushel baskets and gloves? WE DO! How about decorations like authentic fish netting, fun, crabby wall decor, shirts, mallets that we can ENGRAVE, PERSONALIZE, CUSTOMIZE to your specs! You just have to give us a call or send us a request on our personalizedcrabmallets.com website.
Planning a wedding? Need a fun, unique, awesome, great, (you supply the adjective) Personalized Favor? You have come to the right spicy website! If you dream it, we can engrave it*! We LOVE to personalize the spice bottle of your choice – Seafood, Blackened, Steak – with a customized label that has your wedding colors, your favorite saying or recipe, your picture, your theme, YOUR ideas…it makes it special for your guests because it's all YOUR IDEAS! *Some restrictions apply!
Whether it's a special birthday party, a themed baby shower, from the 1st to your 95th wedding anniversary, whatever event you are celebrating, a personalized favor is the way to go.
Take the stress out of your favors ~ let J.O. ENGRAVE CUSTOMIZE PERSONALIZE for you,
🙂 Pamela