J.O. is no longer a secret. From the custom gifts to the crab spice, people from all over are learning about J.O. Spice and Company. We are more than spice! We are the spice that is most often on your crabs as you eat them at your favorite crab establishment. We are at your outdoor wedding as the best favor around – a custom crab mallet! -as we've won the best of the knot since 2013. We are your favorite gift shop because we engrave right on the spot* if you are in dire need of a gift RIGHT NOW! We are your One Stop Shop for gifts, spice, gift baskets, impromptu ideas that are guaranteed to blow the mind of your gift recipient (just using the language we've been told repeatedly in the retail shop!) and J.O. is the fun store that "I didn't know was here" because we're nestled behind an industrial park!
We are no longer a secret because we are at your wedding, your anniversary party, your crab feasts and at various grocery stores, farmers markets and gift shops throughout the Mid-Atlantic region! You'll see our distributors placing the custom cutting boards, new travel mugs, mallets and keychain flasks on small kiosks. There will be spice, batters, breaders & more at various locations. The best part? If you don't see it in your area – CALL US! We'll help you find what you need close by because our motto is Get the customer what they want, when they want it and we pride ourselves on GREAT customer service. If you don't receive GREAT customer service, please call, write a review, and we'll do our best to make it GREAT!
Where have you seen J.O. now that it's no longer a secret? Have you been sitting at your favorite restaurant sprinkling on the spice that says "Crabby Jack's" or "Nick's Seasoning" or "3Hogs Chub Rub" and thought how delicious it was, how cool it is that you can take home a bottle to recreate that fun time? You just witnessed the J.O. Secret right before your very eyes! Yes, we can do custom labeling for your spice. Give us a call: 410.247.5205 and we'll talk!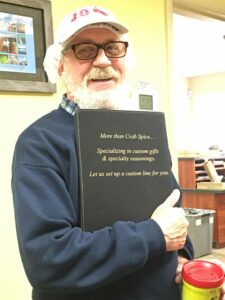 Happy customizing a great gift,
🙂 Pamela