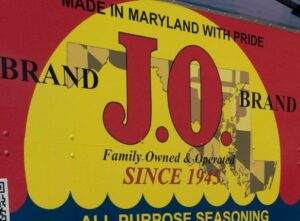 More J.O. in the news is a great way to start a Monday!
More J.O. in any capacity is awesome but more J.O. in the news to get the word-of-mouth advertising spreading everywhere is doubly awesome! If you're from Maryland, DC or VA and have used J.O. for years, first, THANK YOU!!! Then, do you explain how you use J.O.? (Don't forget to share that info with us on our Facebook page! We love to hear from fans!) Do you have any secret recipes that use J.O.? Do you know that steaming your crabs with J.O. is what makes them taste like the crabs from your favorite restaurant? Do you know that some use "secret ingredients" in their famous hamburgers/BBQ/ribs but that it is really onions sprinkled with J.O. or a J.O. Specialty seasoning rubbed on the meat? It's only a secret because J.O. is one of those things people from Maryland have to explain!!! We've been here almost 70 years, but we are Maryland's best kept secret – until you give it a taste! Then you're in the know!
Always feel free to come in to the retail store in Baltimore and learn some more tips – on cooking, decorating or for wedding favors – yes, we do weddings, too! We have the products that make your crabs as good as the restaurant, we can customize and personalize the favors at your wedding so they are the perfect accompaniment to your Chesapeake wedding and your secret ingredients is really cooking done à la J.O. Spice! Let the secret out!
http://www.movoto.com/md/things-people-from-maryland-have-to-explain/
Another fun read!
Enjoy,
🙂 Pamela