It's pumpkin carving time! What to do with all the seeds, right? Roast them! J.O. Spiced Pumpkin Seeds are the best! There is just the right salt and crunch to satisfy!
J.O. Spiced Pumpkin Seeds – what better snack for Sunday's Game day?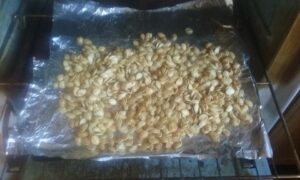 (Thanks for submitting photo on Facebook Mike!)
J.O. Spiced Pumpkin Seeds are so easy – Wash or clean off the seeds, strings, pulp (remnants are fine but the object is the seeds, not chunks of pumpkin! Use that in stew!) Preheat oven to 350. In a microwave-safe bowl, microwave 1T butter. (Variation: Use oil. Or flavored oil – garlic infused? What sounds awesome to you?) Toss the pumpkin seeds in a bowl with the melted butter or oil and 1 tsp. of J.O. #2 Seasoning. (If you like more, add more, it's your snack! Unsure? Start with 1 tsp J.O. #2 Seasoning and if you want to experiment, add a sprinkle of J.O. Cinnamon or J.O. nutmeg along with your J.O.)
Using parchment paper or non-stick foil, spread pumpkin seeds in a single layer on baking sheet. Bake for about 45 minutes, stirring occasionally, until golden brown.
J.O. Spiced Pumpkin Seeds are great for snacking or topping on baked goods – tried on brownies? I might be doing that this year! Let me know if you do!
Happy Snacking,
🙂 Pamela