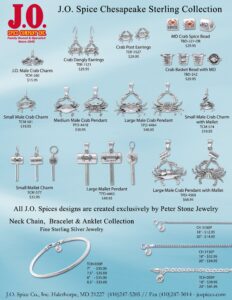 There's nothing better than J.O. Spice on your crabs – now there's nothing better than the new sterling crab jewelry line by J.O. ~ J.O.'s Chesapeake Sterling Collection! This is a new sterling silver crab jewelry line created exclusively for J.O. Spice by Peter Stone, inspired by Ginger. It was Ginger's desire to have a real Maryland crab jewelry line. Her inspirations came from being on the water, crabbing, working with Watermen and appreciating all that Watermen do! She could never find a piece of jewelry that captured the real, true blue crab. When she found a jewelry designer who did such beautiful work, they got to talking, she told them of her ideas and voila, a partnership was formed!
J.O.'s Chesapeake Sterling Collection is Sterling Silver with the option to custom order any piece in gold and platinum. Ginger made sure the crab jewelry looked like a real, true blue crab and as a tribute to the Watermen, she made sure the crabs were anatomically correct! There is such exquisite detail on both sides of the pieces that they are just as much conversation pieces as accompaniments to any outfit!
There is a piece for every budget and with Christmas right around the corner, they are great items for your Wish List! J.O.'s Chesapeake Sterling Collection is sure to delight whether you are a crabber, a daughter/granddaughter of a Watermen or part of the generation that loves crabs. (And, as we all know, that is every generation!)
All pieces of J.O.'s Chesapeake Sterling Collection are on display at the retail store. They are available to order online at www.jospices.com as well. They make great additions to a bridal party or a wedding gift, especially if you are having/attending a Maryland-themed wedding!
When you're thinking gifts, think J.O. Spice!
Happy Shopping,
🙂 Pamela