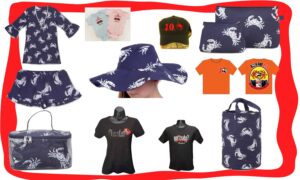 There's new J.O. Natty Boh apparel for the summer months! We have red and grey tshirts, tank tops, kids shirts and onesies! We also have J.O. Natty Boh hats! Whenever you wear a "J. Boh" you are showing your Baltimore pride! What goes better with crabs than beer? (Besides corn, fried chicken, and shrimp of course!) Why not wear it on your tshirt? We also have J.O. Natty Boh sweatshirts and long sleeve shirts to keep you in the crabbing spirit all year long.
With the new red and grey colors, why not stock up? Every so often we run Facebook contests and we ask people to look for J.O. Apparel and snap a pic! The J.O. Natty Boh is so popular because it really brings out that Baltimore spirit, but there is the J.O. Throwback, Knockers and Seasonings for all Seasons shirts available as well.
Inside the new store, there are many other apparel options besides the J.O. Natty Boh. We just got in the resort wear – floppy hats, cover ups and catch-all's that have matching bags that you can take to the beach or on your vacation. There's shorts, pj's, nightshirts, too!  When you think of vacation, think of J.O. for all your apparel, bags and more.
We also love to get pictures of  you wearing J.O. Apparel because it's fun to see how far J.O. can travel! We shout out on Facebook and you just never know when that shout out gets you a very cool prize!
So, what's in your closet?
Dress for Success in J.O. Apparel,
🙂 Pamela