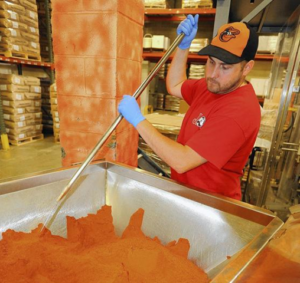 The crabs piled on a table at a backyard crab feast, hot and spicy, are probably sprinkled with a unique taste many in the area associate with summer in Maryland.
If the crabs came from one of the area's carryout restaurants or crab houses, more than likely the seasoning isn't the iconic Old Bay. Chances are, it's a seasoning mix produced in an industrial park off Sulphur Spring Road.
This is no McCormick with its giant campus in Hunt Valley and hundreds of employees. J.O. Spice Co. on Old Georgetown Road is still family run and employs a couple dozen people to produce seafood seasoning, as well as a whole line of products to spice up meat, fish and poultry.
"You go to a restaurant and you eat your crabs, and you think you're eating Old Bay," said Ginger Ports, vice president of marketing and sales for J.O. Spice Co.
And, Ports said, that's fine. "That's a Maryland icon. There's a place for that product," she said.
"Old Bay is in the grocery store," she said. "J.O. is in the restaurants."
At many area crab houses, the famous crustacean is encrusted with J.O. Spice. J.O. counts crab houses from Lansdowne to Ocean City among its regular customers, delivering both their standard seasonings as well as custom blends — and if business is good, sometimes it can be an emergency delivery, Ports said.
Sea Hut Inn on Frederick Road has been seasoning its crabs with J.O. since it opened 31 years ago, according to owner Sue Yin.
Sea Hut orders its own custom blend from J.O. "We have a little bit of everything in it," Yin said.
"Most crab houses have their own blend," she added.
"In my store, we use J.O. for all of our crabs," said Barry Koluch, who owns Cravin' Crabs in Baltimore Highlands with his father, Paul Koluch. When the Koluchs were getting ready to open Cravin' Crabs on Annapolis Road about five years ago, J.O. mixed up small batches for the Koluchs to take home and sample.
After a few trials, they hit upon a blend that balances the salt and the heat. "We wanted it to appeal to the masses," Koluch said.
J.O Spice Co., founded in 1945 in a Baltimore storefront, has been producing their combinations of spices — all kinds of blends, sauces and batter mixes — in Halethorpe for the past 24 years. In December, the company took over the adjacent space, a former closet company, to double their space, adding 14,000 square feet to their plant.
A family-owned operation, it was started by James Ozzie Strigle and his wife, Dot, who moved to Baltimore from Tangier Island, Va., where Strigle had been a waterman, according to the company website. Strigle produced the original, No. 1, blend to use on all seafood. The mix for crabs, No. 2, came along later, laced with the flake salt favored by steamed crab aficionados, according to Ports.
The company remains in the hands of family. Don Ports, Strigle's grandson, is president now. Ginger Ports is his wife.
Their main focus is the local crab house — actually, seafood houses from New Jersey to Virginia with distributors taking their spices much farther. Small as they are, J.O. is spicing things up as far away as Australia and Singapore, too.
With the company delivering their spice mixes directly to restaurants and crab houses, you might not have heard of it. "J.O. has always been on the wholesale side," Ports said.
You won't find it on the spice shelves at Giant or Safeway — although Ports said Safeway does steam its shrimp in J.O.'s No. 1 blend.
Local seafood shops carry small bottles of No. 1 and No. 2 and some of their other seasonings and batter mixes.
Busy season
J.O. produces enough spice to season 7 million to 12 million bushels of crabs a year. Some 1,750 to 3,000 tons of raw materials produce 3.5 to 6 million pounds of spice blends every year, according to Ports.
"Summer is the biggest time," Ports said.
On a recent Thursday, employees arrived at work before 5 a.m. to prepare a shipment to Ocean City restaurants.
In the cavernous warehouses, a forklift scooted through, moving pallets of spices in 50-pound bags. Nearby, gray bins and tarp-like sacks, some weighing more than a ton, awaited their moment in the hoppers where spices are mixed. Bags of ground mustard were piled to the ceiling. A bulk bag of No. 1 seasoning weighs in at 1,800 pounds.
In another room, workers are filling shipping boxes with J.O. products.
The plant is kept meticulously clean. Products are tested for bacteria — and metal: Before a box can ship, it has to pass through the metal detector.
If anything is detected, the box is tossed. Ports said recycled cartons caused a problem one time — the recycled cartons contained bits of recycled staples.
The expanded space has some room for expansion, too. A test kitchen will be added to the site later this year, according to Ports.
"We blend 50 [,000] to 60,000 pounds a day," said Sean Dunbar, of Arbutus, the plant manager, driving the forklift. "In summertime, it's all day long. It never stops."
And demand is so great, spices go out on trucks almost as soon as they're mixed. "When we make it, it's gone," said Dunbar, who has worked at J.O. for 15 years.
Lee McNeil, the assistant plant manager, nodded in agreement. "When I saw the quantity, I didn't believe it. I looked up and the shelves were empty. It was all gone," said McNeil.
Later in the day, it was quieter, but still busy. In a small room near the gift shop, laser printers were adding logos and names to mallets and glasses, were etched with logos. Staff members were pasting labels on jars and filling orders. "A lot of it is still hand labeled," Ports said.
More than seasoning
Spice only begins to describe J.O.'s participation in the traditional crab feast. They print bushel boxes for crab houses, stock brown paper to spread on the tables, order crab mallets by the trailer truck-full. They stock big paper bags and even vinegar, too.
"We literally provide everything but the crabs," she said.
Cravin' Crabs, for example, buys its other supplies — paper, bushel boxes, seasonings and custom crab mallets — from J.O., too, Koluch said.
Since the demand for crab seasoning tends to drop in the off season, J.O. started a small gift shop in an unused space a few years ago. It also expanded into more than double its original space when the facilities grew last winter.
Almost as big as the spices are J.O.'s custom crab mallets. Ports came up with the idea to laser print wooden mallets for restaurants, crab feasts, even weddings.
Not everyone in the company was sold — until they sold 650,000 mallets in the first year, according to Ports. Last year, they sold some 800,000 customized mallets.
"It's really taken off in the last four years," Ports said.
Customizing mallets, it turns out, is a very competitive part of their business. Ports remained mum on their supplier and the kind of wood they use. "They only make mallets for us," she said.
The gift shop adds another layer of crab-love to the mix. They carry all of their own products, including the seafood seasoning in 10-pound buckets and kitchen spices, along with all kinds of crab-related stuff: T-shirts, wall hangings and crab encrusted jewelry.
All of the wares come from small businesses and family businesses. And they are made or designed in the United States.
A series of wall plaques designed in the U.S. are actually produced in Indonesia, Ports allowed, but that's the exception.
The thinking was, she explained, "we could help other small businesses."
The diversity of their products keeps the staff working year round, Ports said. The staff mixing spices in summer may find themselves working on corporate gift baskets or shipping mallets, but "it keeps them busy," Ports said.
There's no need for layoffs in the winter or hiring temporary employees in the summer. They work full-time with time off for two weeks at Christmas and on every holiday.
"Everyone is like a family," she said.
Read more: http://www.baltimoresun.com/news/maryland/baltimore-county/arbutus-lansdowne/ph-at-jospice-0813-20140812,0,4226932.story#ixzz3ANmYOEw4
This article ran in the Arbutus Times, August 12, 2014 ~Written very well by Mary K. Tilghman! She did her research and reported on FACTS…and we appreciate it. I copied the entire article – no revisions or editing done – just the way it was written in the paper and online!
Enjoy Reading a Great Article,
🙂 Pamela