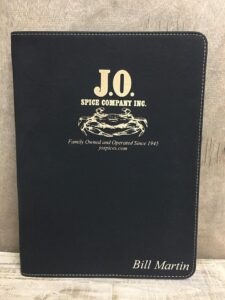 The best gifts come wrapped especially for you, given with a smile, a thoughtful laugh and a kind heart. Those gifts are the cutting boards you design with the help of the J.O. Spice team AND we engrave picture frames, leather portfolios, flasks, checkbook covers, keychains, koozies that float and cups that are better than the popular brand! A custom, personalized gift warms the heart – we started getting more and more feedback from customers who specifically came into the store to make something for their special someone!
Gifts can be something extraordinary when you take just a moment to think what that person loves – then you put it on a glass!  The graphic designers can do most anything from your imagination – there are, of course, some exceptions, but not too many! – and once they have your ideas, they put it to life on your gift of choice.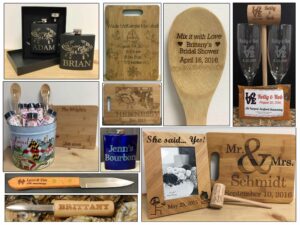 Check out J.O.'s Facebook, Pinterest or website for all kinds of ideas or stop into the retail store and have a chat with one of the friendly staff members who will help you create the best gift!
Check out the video from Traffic Jam Jimmy's Facebook page as he gave the best gift to Governor Hogan!
Happy gifting the best gift ever,
🙂 Pamela