J.O. made another fine article! AND this has some really good info – how to pick a crab (comic), where to get some really good crabs (and you'd be surprised how many of those are J.O. customers!!), and some tried and true definitions to keep you and your friends always in the know! Thanks to Jamie Liu for doing a great job researching -and knowing that J.O. is preferred by most crab and seafood restaurants!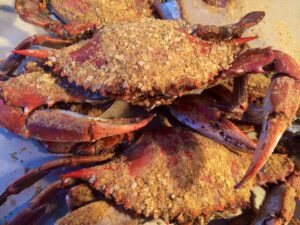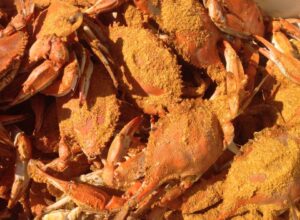 Reprinted from www.eater.com: Maryland Crabs: A Guide to the East Coast's Essential Summer Feast – Eater 
Maryland Crabs: A Guide to the East Coast's Essential Summer Feast
Every summer, people from near and far flock to Maryland's coast to get their fill of blue crabs. Here now, Eater DC contributor Jamie Liu breaks down the how's and where's of crab season.
Summers in Maryland aren't summer without crabs. And not just any crabs: We're talking about the delicate, sweet blue crab bounty of the Chesapeake Bay, whose Latin name Callinectes sapidus means "beautiful swimmer." There are few things that get Marylanders more excited than tearing into a bushel of red-shelled beauties encrusted with crab seasoning, or enjoying the delicacy of a fried soft shell, accompanied by an ice cold Natty Boh.
Marylanders prepare hard shells and other seafood by steaming them, rather than the boiling that is common along the rest of the East Coast and Louisiana. Marylanders will tell you that boiling makes the crabmeat wet, rather than just moist. (Boiling proponents argue that steaming pushes the internal temperature too high and dries out the flesh.) But oddly enough, Marylanders complain that the seasoned boiling water makes the crab taste too evenly seasoned — they prefer the variety in heat and seasoning that comes from tasting the spice that rubs on to the crabmeat from their fingers. As a result, in Maryland, steamed is usually the only option on offer.
WHAT'S SPECIAL ABOUT MARYLAND CRABS?
Blue crabs can be found in waters as far north as Nova Scotia and as far south as Uruguay, but the crustacean's strongest association has always been with Maryland. According to the Maryland Department of Natural Resources, approximately 50 percent of the country's blue crab harvest comes from Maryland waters.
And they are an essential part of the region's culinary heritage. "Blue crab is part of the holy trinity of Maryland seafood, made up of oysters, rockfish, and blue crab," says chef Spike Gjerde of Baltimore's Woodberry Kitchen.
Gjerde is the first Baltimore chef to win the James Beard Award for Best Chef: Mid-Atlantic, and was raised in Baltimore. He knows his crabs: "Blue crab is really unlike any other crab in the world, thanks to the growing conditions, and the type of estuary we have here," he says. "They are superior to any other crab in my opinion."
The lazy might prefer larger Dungeness crabs from the West Coast, which are much larger and easier to eat. Many restaurants use cheaper pasteurized crab from Asia for their dishes. But not all crabs are made equal. Gjerde notes that other species of crab lack the depth of flavor and delicate texture of blue crabs. "The seasons have a lot to do with it," he says. "The season typically starts around [April] and lasts until the cold weather comes around in November. The seasonality has certainly affected our appreciation for blue crab over the years, and it is why it holds the place that it does in the Chesapeake way of life."
From a scientific perspective, the need for hibernation is the main reason Maryland crabs taste better than other types of crab — and also tastes better than blue crabs from other waters, according to Steve Vilnit of the Maryland Department of Natural Resources, Fisheries Services. He explains that just like other creatures that hibernate, crabs need to build up fat stores to sustain them through the dormant period. "This gives our crabs a buttery flavor that you won't find anywhere else," Vilnit says. "To someone that knows what they are looking for, it is possible to tell by eye which ones are from Maryland, but most likely it will be by taste."
So how does one look at a crab and know if it's from Maryland? One of the ways is the color of the fat, often called mustard by locals, which is a darker shade of yellow, according to captain Frank Updike Sr. of Natural Light Charters, who leads chartered crabbing and fishing trips with his son Frank Jr.
The easiest ways to ensure you're getting Maryland crabs are first to ask, and second to visit restaurants that are True Blue-certified by the state of Maryland. The certification verifies through the restaurant's receipts that at least 75 percent of the crabs or crabmeat used during the year came from Maryland.
But as Updike says, "Yes, Maryland crabs do taste better. But even if a blue crab isn't from Maryland, it's still going to taste pretty good."
WHAT ARE SOFT SHELL CRABS?
Many consider soft shell crabs to be a delicacy, and a way to enjoy crabs without the arduous task of picking them. Soft shells are any crab that has molted within the last 12 hours. During that time the shells are soft and papery, so they can be eaten whole, claw to claw, with the exception of the gills and parts of the abdomen. These parts are removed prior to being cooked, so diners can eat with abandon.
Crabs typically molt between 18 and 23 times during their life, and they can mate only when a female is molting. Because the crab spends only about 12 hours as a soft shell, crabbers look carefully for the sign that a crab is about to molt — the development of a line on the last leg, known as the paddler fin, that starts out white and progresses to pink and then red as it grows closer to molting.
These pre-molting crabs, known as peelers, are usually held in a special shedding tank until they bust out of their old shells. The then-valuable softies are removed from the water to prevent hardening of their shells before they are cooked and eaten.
Before finding their way to a plate, soft shells are typically fried with a seasoned batter or sautéed. It's hard not to love something deep fried, but many natives consider sautéing the better option to not overwhelm the sweetness of the meat. Both methods preserve the fatty mustard inside and typically lead to a crab gushing with juice.
At most Maryland seafood restaurants, soft shells are served as a sandwich with mayonnaise, lettuce, and tomato or plain on a platter to enjoy with a fork and knife. But obviously many chefs have taken the classic further, putting them in the pervasive soft shell sushi roll, as well as in tacos and on top of pizzas.
WHEN TO EAT CRABS
Hard shells
The Maryland crab season starts in April and runs through December. But much of what is found in crab houses early in the season or in the winter is coming from North Carolina and Louisiana.
Maryland crabs that are served in April and early May are typically ones that stayed north during the winter and dug themselves down into the mud. Then around Memorial Day, the initial supply is exhausted, and crabbers await the crabs that are still migrating their way up the Bay.
While June through August are the most favored and tradition-laden times for eating crabs, September and October are the best time to get the largest and fattest hard crabs at the best prices.
Soft shells
The Maryland soft shell season usually runs mid-May through September. Because they are a delicacy, the best time to eat them is whenever you can get them. However, they are typically the least expensive at the beginning of the season.
LEXICON
Mustard/Tomalley: Found in all crabs, the tomalley, known as mustard in the mid-Atlantic, is the crab's fat. It can range in color from white to dijon mustard yellow to a greenish color. It is included with most pre-packed crabmeat to enrich its flavor.Roe: Found in mature female crabs, crab roe is a bright orange color. When steamed it solidifies, and is often used as a topping in Chinese cuisine for dishes like pork and crab soup dumplings, or tofu.Jumbo lump: These are the large chunks of meat connected to the swimming fins of the crab. It is favored for its presentation and size, and is accordingly more expensive.Backfin: Backfin meat comes from the body of the crab and broken chunks of lump. It tends to have a more shredded texture than lump and is less expensive.Apron: This is the flap on the white underside of a crab, which terminates in a point. They can be used to judge the sex and maturity of the crab.Jimmy: These are male crabs; the point of the apron is long and narrow. Adults have locking spines that allow them to open and shut their apron for mating. These are typically the favorite for consumption due to their size and have higher availability due to higher catch limits.Sally: Also known as she-crabs, these are adolescent female blue crabs. Their entire apron forms a triangle, and their blue claws are tipped with red. The aprons do not open since they are not ready to mate or carry eggs. Typically these are thrown back due to their small size and reproductive potential.Sook: Mature female blue crabs are identified by an apron that is the shape of an upside-down U with a triangular point at the end. She also has blue claws tipped with red. Sooks are usually less expensive and end up in the picking houses due to their smaller size. Some say that sooks have sweeter meat than jimmies.Sponge crab: Sponge crabs are mature females that have fertilized eggs attached to the bottom of their abdomens. In Maryland, these must be thrown back into the water.

Peeler: This is the term used to describe a crab as it prepares to molt and to become a soft shell crab. It is distinguished by a colored line on its paddling fin.
Size classes: There are no industry standards for crab sizes, so they may vary from vendor to vendor. Most are categorized by the distance from point to point on the top shell and sometimes by sex.There are two systems of size classification. The first uses numbers, with #1 being the largest, heaviest males, #2 signifying smaller males, and #3 labeling the females and smallest crabs. The other system classifies them by small, medium, large, and jumbo; smalls are usually four-and-a-half to five inches across, while jumbos are typically larger than six inches.Old Bay: The spice served up from the iconic blue and yellow box has become a pop icon. McCormick, the owner of Old Bay, doesn't publicly disclose all 18 herbs and spices that are in the recipe, but the box lists celery salt, red and black pepper, and paprika. Speculators note the likely ingredients as bay leaves, cloves, allspice (pimento), ginger, mace, cardamom, cinnamon, and paprika. Locals sprinkle it on just about anything, and it's found in consumables like Baltimore ice cream parlor the Charmery's Old Bay caramel ice cream, or in Flying Dog Brewery's Dead Rise Old Bay Summer Ale.Some locals contend that McCormick changed the spice blend recipe when they purchased it from German immigrant Gustav Brunn in 1990. They claim that since the transition Old Bay has lacked the heat of the 1939 original made by Brunn's Baltimore Spice Company. But a McCormick spokesperson denies any changes to the recipe since it was purchased.J.O. Spice: Odds are at a crab house, what's seasoning the crabs is made by J.O. Spice Company, not Old Bay. Established in 1945, the company supplies more than 800 restaurants in the mid-Atlantic, often creating custom blends that vary in saltiness and heat. The easiest way to discern if a restaurant is using J.O. is to examine the salt crystals, which are flaky rather than cubical.Apple cider vinegar: Aside from crab seasoning, most Marylanders consider apple cider vinegar to be one of the key condiments for crabs. Butter is used infrequently, and cocktail sauce is generally considered a big no-no.
BUt how do you eat them?
WHERE SHOULD I FEAST?
Most traditionalists think the best place to have a crab feast is in one's backyard. Gjerde agrees. "We grew up with steamed crabs at home," he says. "If it's the full undertaking, you're steaming them at home or you're buying them steamed from the shop. They come in a heavy brown bag; it's all part of the awesome experience." But Gjerde notes that regardless of locale, the "tradition is that crab-eating is a communal exercise — it is meant to be enjoyed by the whole family, or in a big group, and that's part of the enjoyment."
It's not uncommon to find trucks taking up residency in empty lots and by gas stations for the summer, selling live crabs for locals to take home and steam themselves. Generally these are Maryland crabs, and obviously are less expensive.
For those who are not lucky enough to have the benefit of a friend or family member's home, or want to enjoy crabs and not have to deal with the clean-up, there are plenty of options that will satisfy a hankering and, more importantly, provide overworked fingers with respite in the form of other seafood and summery sides like corn, hush puppies, and coleslaw.
NEAR THE CITIES
L.P. Steamers
L.P. Steamers may not be much to look at from the outside, surrounded by formstone-covered rowhouses, but it's the inside that counts. This 18-year-old spot opened by Bud Gardner is the one that folks in the know visit.
And they come not just for the hard shells, but for the traditional battered and fried soft shell crabs platters and sandwiches sprinkled with Old Bay. Those looking to up the ante can order the stuffed soft shell crabs, which come stuffed with a crab cake.
But what makes this spot even more special is the way the hard shells are classified and sold. While most restaurants sell by distance from point to point, Gardner sells crabs by weight. So rather ordering expensive large or jumbo crabs that are half empty, patrons get what they pay for — meaty crabs.
1100 E. Fort Ave.
Baltimore, MD 21230
(410) 576-9294, Website
Conrad's Seafood
Gjerde recommends Conrad's Seafood Restaurant in Perry Hall, a nearby Baltimore suburb. "Tony Conrad is amazing — he has a retail operation and is also a waterman so he's catching a lot of what he's selling." And what he isn't catching comes from other Maryland crabbers during the season, and from Louisiana during the winter.
Conrad is a relative newcomer in the crab house business. After spending weekends crabbing, he quit his corporate job and took on the business of crabbing full time. Eventually he took over an old crab shop, and then expanded the business to include more shops, a restaurant, and a stand at Cal Ripken's minor league stadium. Even though Conrad started out corporate, his family has a long history of being crabbers and fishermen, dating back to the Civil War.
To season his crabs, Conrad uses a special blend he commissioned from J.O. Spice. And for those who aren't interested in picking crabs, soft shells are available as a special when they are in season.
9654 Belair Rd.
Perry Hall, MD 21236
(410) 529-3474, Website
Cantler's Riverside Inn
This crab house located in the state capital was opened in 1975 by fifth-generation waterman Jimmy Cantler and his wife Linda. It may be considered by many to be a tourist attraction, but it's no trap. Located on the banks of Mill Creek, it is the traditional go-to spot for a true crab feast and all-around seafood orgy of soft shells and shellfish.
Many locals will pull their boat up to the dock before dining, and it's not unusual for cars to snake out of the parking lot into the street as patrons wait their turn to park and eat. For visits during peak summer crab season, go early and bring a cooler of beer to enjoy while waiting it out.
458 Forest Beach Rd.
Annapolis, MD 21409
(410) 757-1311; Website
NEAR THE SHORE
Suicide Bridge Restaurant
The Suicide Bridge Restaurant is located in the historic home of the crabbing industry, Dorchester County. Along with the proximity to crabbers and picking facilities, it offers a view of Cabin Creek, a tributary of the Choptank River.
Open in its current form since 1983, the restaurant celebrates the culinary traditions of Maryland, serving local wine and the state's official dessert, Smith Island Cake (8-15 ultra-thin layers of cake with fudge or chocolate frosting).
For those looking to add a touch of history to the experience, enjoy a meal on one of the two authentic stern wheeler riverboats like those often seen on the Mississippi.
6304 Suicide Bridge Rd.
Hurlock, Maryland 21643
(410) 943-4689; Website
Waterman's Crab House
While it's difficult to imbue romance into the messy experience of eating crabs, Waterman's Crab House manages to do so with its west-facing deck and sunset views.
Owned and operated by Bill and Debbie Weldon since 1996, the restaurant is frequently surrounded by docked boats. But one of the biggest attractions is the all-you-can-eat crab feast (with two hour time limit) that includes Maryland crab soup, corn, and coleslaw.
21055 Sharp St.
Rock Hall, MD 21661
(410) 639-2261; Website
Fisherman's Inn and Crab Deck
The original Fisherman's Inn opened in 1930 with seating for 30 and a grocery store from captain Alex Thomas and his wife Mae. A new, larger restaurant was opened by their daughter and son-in-law in 1971. It was destroyed in a fire in 1980, but was rebuilt and reopened in 1981.
The spot is split between the Inn, the Crab Deck, and the Market. The Inn has a more formal menu serving crab dishes, but not hard shells. The Crab Deck is where folks can dig in to crabs coated with J.O. Spice and other seafood items, while the Market allows customers to purchase seafood to take home.
3116 Main St.
Grasonville, MD 21638
(410) 827-6666; Website
Harris Crab House & Seafood Restaurant
Harris Crab House was founded in 1981 by Jerry Harris, his sister, Karen Oertel, and their spouses. But the Harris family already had a history in the crabbing industry; their father William Harris founded the W.H. Harris Seafood Packing Company in 1947 on the Kent Narrows.
During the week the restaurant has an all-you-can-eat special, which can be enjoyed with a view of the Bay. And there are plenty of soft shell options on offer from sandwiches to platters, as well as ones stuffed with crab imperial.
433 Kent Narrow Way N
Grasonville, MD 21638
Phone: (410) 827-9500; Website
FOR ADDED ADVENTURE
Those seeking an interactive learning experience may want to opt for a chartered trip with captain Frank Updike Sr. and his son captain Frank Updike Jr. on Kent Island. Along with the option to seek out Maryland's state fish, the rockfish, the two take groups on the Bay for crabbing.
Both are experienced watermen, and Frank Jr. spent one summer working on a crab boat picking up plenty of war stories along the way. The two will help lay out 1,200 feet of baited trotlines with an anchor and floats. After waiting the requisite amount of time, they show guests how to bring the lines in, watch the water, and teach them the right timing for putting the dip net underneath their crabs. When enough crabs are caught they'll be steamed for the road.
And if it all ends up being a little too exhausting, stop by Kentmorr Restaurant across the marina. Founded in 1954 and operated by Dave and Tammy Harper since 1993, it offers crabs and other seafood dishes, and features a beachfront tiki bar with a view of the Bay Bridge.
Kentmorr Marina
Stevensville, MD 21666
(410) 978-0232
Location: 910 Kentmorr Rd.
Stevensville, MD 21666
(410) 643-2263
Lead Image: L.P. Steamers official site
Interstitial Image: Shutterstock