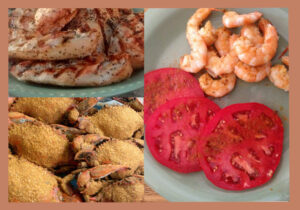 J.O. Garlic Crab spice is delicious on chicken wings, shish kebabs and shrimp. Garlic Crab is the right salt, the right balance of crab spice to garlic so that it's not overpowering, too strong or overwhelming; it's just a very good, very flavorful spice that adds life to chicken, steak, shrimp, pork and meaty fish like rockfish, swordfish, and mahi mahi.
Garlic Crab is easy and convenient to work with as well. Since it has the salt and the spice, it's all you need to rub on your meat to get your meat ready for grilling, broiling or roasting.
When you are not sure what to do for dinner, having Garlic Crab spice on hand will just make a dinner appear like magic!
~ Sprinkle on chicken breasts, some frozen fish that needs a little more oomph, or some shrimp.
~ Spread some shrimp on a baking pan, cut up some pats of butter and sprinkle the spice. Bake until shrimp is that nice pink opaque. Voila! Dinner in a flash!
~ Don't ever forget to add Garlic Crab to potatoes, popcorn or tomatoes!
~ I've not tried this – YET – but I was told by a customer that he puts it on his lobster tails and it's like heaven…He was pretty convincing so that's why I bought a bottle!!
Let us know what you like to add Garlic Crab Spice to and how you use it in your kitchen! Share with us on Facebook, or Tweet it! If you are a Facebook Fan (and why are you not?), we regularly do "What's for Dinner?" Contests so make sure to snap a picture of your dinner before you eat it so you can share and win a prize!
Keep it spicy in the kitchen,
🙂 Pamela