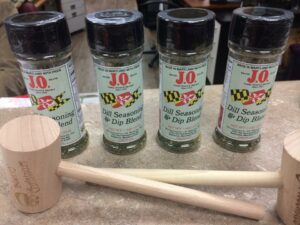 One of my favorite nephews loves to Dip Dip Dip his food. And that is precisely the way he says it as he's eating, "Dip." "Dip." "Dip." It's truly the cutest thing. J.O. is branching out into dip blends in 2015. Our first dip to debut was at Christmas when we introduced the Dill Seasoning & Dip Blend. It's a delightful combination of lemony spice with just the right kick to it the longer it sits. Combined with mayonnaise, sour cream or yogurt and sour cream or a combination however you choose, it's a wonderful accompaniment to crudites, potato chips, pretzels, chicken nuggets and more.
A regular customer bought one at the Facebook Christmas party and put the Dip Dip Dip blend into her hamburger meat and called the next day to say that it was the best meatloaf she'd ever made! See what a little spice can do? I'm sure it would do wonders to hamburgers or turkey burgers as well! What about spicing up chicken or pork – don't leave out the "other" meats in your life!
The Dill Seasoning Blend is actually somewhat of a misnomer as I despise dill as much as tarragon and lima beans – all should be wiped from the planet. The Dill is not the front runner of this dip in my opinion. Actually, I know someone who was disappointed that the dill wasn't the most prevalent taste but I'm actually quite happy that it's just enough! The other spices deliver such a fantastic complement to yogurt & sour cream that it's got the right heat, the right "YUM!" that makes any young kid Dip Dip Dip their veggies in earnest! Trust me! I've seen it. My young nephew didn't know what a radish was and he ate it heartily…I don't think it was because I told him it was a pretty red ball..it was all the dip he ate with it!
Wait until you see all the other fun products we come up with in 2015! The Dill Seasoning & Dip Blend is just the beginning!
Enjoy Dip Dip Dipping your veggies,
🙂 Pamela