J.O. has the custom, personalized wedding favor ideas for you! I think wedding cookie tables are wonderfully delicious! Who doesn't love to see a wide spread of cookies while they are dancing the night away, toasting the Happy Couple? We have the perfect wedding favor idea~ Crab, lighthouse or starfish cookie cutters attached to a custom, or personalized mallet, or cutting board! The cookie cutters come in two sizes and paired with a favorite recipe, a cute bow or tie and they are the perfect wedding favor or bridal party gift!
Adding a customized mallet with your name and wedding date and having the cookie cutter attached with string or wraffia (the J.O. spelling since we sell that, too!) and a personalized note that might include a recipe for cookies or a recipe for what the day means to you or a recipe for happiness gives that special touch to your special event. Personalize your favor to fit your fancy.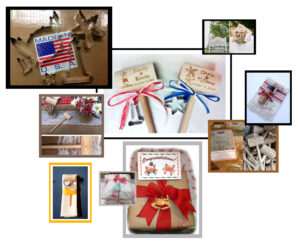 What about a bottle of J.O. Cinnamon sugar or J.O. Pumpkin Pie Spice with a J.O. customized label attached to the "best pumpkin bread ever" or "absolutely wonderful snickerdoodles" recipes and a Cookie Cutter?
What about putting a cookie cutter with an engraved cutting board? Rolling out the dough on a cutting board gives you an even surface – use parchment paper underneath for easy clean up!
Wedding favors that are personalized, and customized add that special meaning to your special event. Giving as a gift to your bridesmaids or maid of honor keeps the memories alive for years to come ~ especially when it is something they will actually USE!
What was your favorite favor at a wedding?
Have a great (and spicy!) event!!
🙂 Pamela