What better way to start off a week than to make some crab quiche? Even better when you are making the quiche for a few dinners so you are ahead of the weeknight dinner game! Making dinner ahead of time makes for a better commute and knowing that you have something delicious, fun and satisfying waiting for you to re-heat just makes the week even better.
Crab Quiche with the right amount of spice, cheese and crab is a go-to recipe for anyone who has leftover crab (I've actually seen it happen so I know that's why you need these great recipes!) and wants something crabby, cheesy and easy to re-heat for a great weeknight dinner. The great news? This recipe makes 2 so you're covered for a family of 5!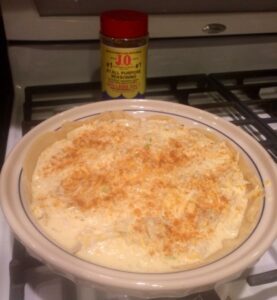 Crab Quiche : This recipe makes two 9″ pies
2- 9″ deep pie crusts (baked 3 minutes and cooled)
What you'll need:
1 lb. lump crab meat
4 eggs 
2 Tbsp. flour 
1 cup mayonnaise 
1 cup whole milk 
8 oz. shredded Swiss cheese – Ginger would replace with a milder cheese unless you love swiss. She found it overpowering.
8 oz. shredded Cheddar cheese 
2 tsp. J.O. #1 or J.O. 50% less– ( Ginger used 3 and extra to sprinkle on top)
1- Tbsp. finely chopped onion 
1- Tbsp. finely chopped green onion
Directions:
1. Pre-heat oven to 350º – par bake your crust for 3 minutes. We used Pillsbury pie dough and it worked out great. We did spray the pie pans with cooking spray to keep the crust from sticking.
2. Combine eggs, flour, mayonnaise and milk, mix well. Add remainder of the ingredients (except crab meat) and mix well. 
3. Fold in crab meat and try not to separate the lumps of crab meat too much. Pour into 2 separate pie crusts, sprinkle with additional J.O. Seasoning. 
4. Bake at 350º for 50 minutes or until knife comes out clean. (Check at about 40 minutes to avoid burning, since ovens vary)
Enjoy being ahead of the weeknight dinner game! What did you make tonight? What spice did you use?
Share recipes on Facebook! We love to see what you create!
🙂 Pamela