J.O. Spice Company was established in 1945 and is a Baltimore, Maryland based manufacturer and distributor of a wide range of seafood seasonings, spices, batters, breadings and soups. If you have ever eaten traditional steamed Maryland crabs, you have probably already tasted J.O. Spice's famous recipe.
The J.O. brand crab seasonings are used in almost every crab house and restaurant on the East coast that serves Maryland steamed crabs and is the preferred crab seasoning around the Chesapeake Bay area. The J.O. Crab Seasoning is a custom blend using ingredients and a special salt, which adhere to the steamed crab.
A true Chesapeake Bay flavor!
This great crab house flavor is now also available in retail size packages. All our products are available for nationwide shipping. Information on bulk seasonings for restaurants can be found on the Restaurants page. Product information and great recipes can be found on many pages of our website.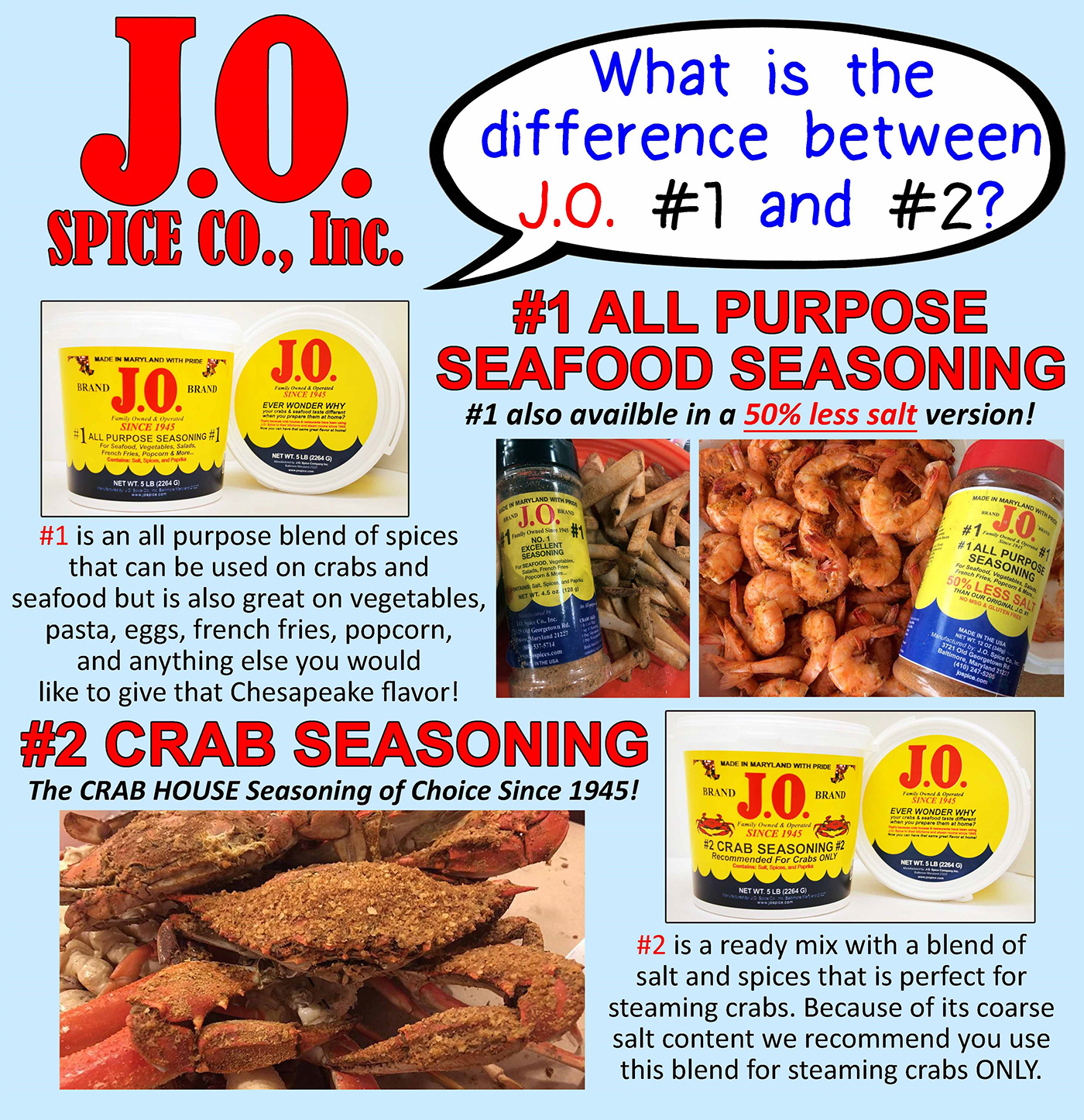 | | | |
| --- | --- | --- |
| | Google Review by Shauna | |
| | Not only are their products wonderful and authentically Maryland, their customer service and commitment to excellence go above and beyond! Their communication is always on-point and they were able to accommodate last-minute special requests with my order and resolve unforseen issues with the post office that came up. Ginger is the best! | |
| | | |
| --- | --- | --- |
| | Google Review by Lori | |
| | We absolutely love J.O. spice! Their assortment of spices are amazing. They are a family owned business for over 75 years located in Baltimore Maryland. When you order steam crabs in a restaurant, that's the spice that most restaurants use "JO Spice". Their online store offers so many unique items great for gifts for any occasion. We have been buying our crab spice from J.O. For over 35 years. We are proud to say that Ginger, Brittney and all the gang are like family. Thank you for always taking care of us. | |