Seasonings for all Seasons Quality spices at reasonable prices since 1945
J.O. Spice Company was established in 1945 and is a Baltimore, Maryland based manufacturer and distributor of a wide range of seafood seasonings, spices, batters, breadings and soups. If you have ever eaten traditional steamed Maryland crabs, you have probably already tasted J.O. Spice's famous recipe.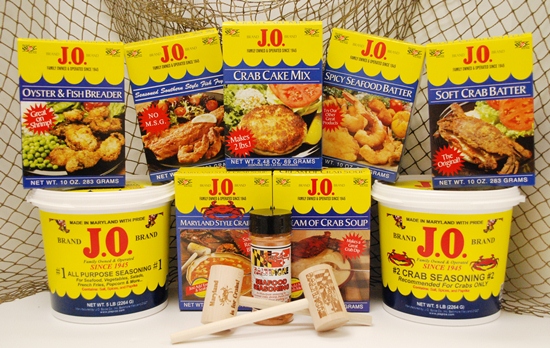 The J.O. brand crab seasonings are used in almost every crab house and restaurant on the East coast that serves Maryland steamed crabs and is the preferred crab seasoning around the Chesapeake Bay area. The J.O. Crab Seasoning is a custom blend using ingredients and a special salt, which adhere to the steamed crab.
A true Chesapeake Bay flavor!

Current News and Announcements
Today is Saturday February 29th 2020
Stop in our retail store, located in Baltimore (Halethorpe) to see our full line of seasonings. We are OPEN Mon-Fri 7:30am to 4:30pm for Retail and Wholesale.





All items on this website are in stock in our store. Stop by and see us or order from our Online store and have it shipped directly to your home.





All Orders placed on our Online Store Friday's after 3pm or on a Holiday, will not be processed until the next business day.





To keep up to date with everything new and exciting at J.O. Spice Company Like us on Facebook and/or follow us on Twitter!




This great crab house flavor is now also available in retail size packages. Visit our Products pages for photos and more information and call or email with any additional questions. All our products are available for nationwide shipping. Information on bulk seasonings for restaurants can be found on the Restaurants page. Product information and great recipes can be found on many pages of our website.
Join Our Mailing List to Receive New
Product Info, Specials and more!

"Looking for Fresh Maryland Blue Crabs?
Have them shipped directly to you!
Go to www.iLoveCrabs.com"